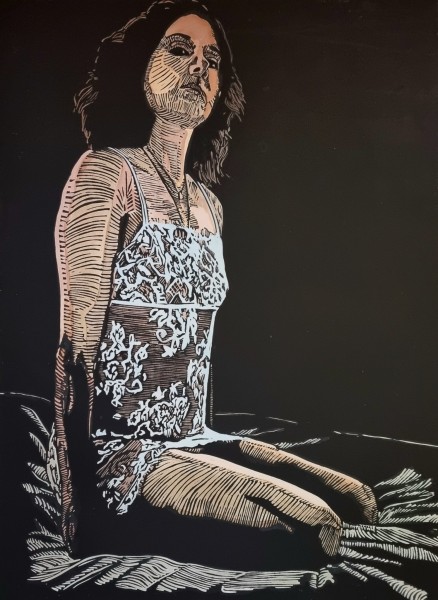 Please welcome Mark Rowden, one of our four new members.
Mark Rowden's works describe modern moments and memories, with a subtle reflection of the past. Rowden finds inspiration in moments of social interaction, isolation and beauty.
As a master printer he constructs works through the traditional process of relief printmaking, breaking down the visual information to a graphic form, creating shadows and spaces which the viewer can move through, and sharing symbols and stories of living in a modern society.
Mark studied at The National Art School, where he was awarded a Bachelor of Fine Arts in 2000. Rowden worked at Whaling Road studios, one of Australia's oldest print workshops, for many years. While working there he printed for a number of renowned Australian artists.
He has exhibited widely in Sydney in many group and solo shows. He was invited to be a part of the International Print Biennale in Brazil twice. Rowden's work is held in numerous private and commercial collections, including Broken Hill and Wagga Wagga Regional Galleries.
Recent exhibitions include The Latterns Pavilion activation 2023, Secret Sitter 2023 – Goodspace and Prints4Ukarine – CBD Gallery 2023. Art Prizes – Gippsland Print Prize – Gippsland Regional Gallery, Sunshine Coast Art Prize – Caloundra Regional Gallery, Remagine, Hornsby Art Gallery and Whitewall project art prize.
He has an upcoming solo show in Colorado, USA, December 2023 and a Duo show at Incinerator Gallery in 2024.