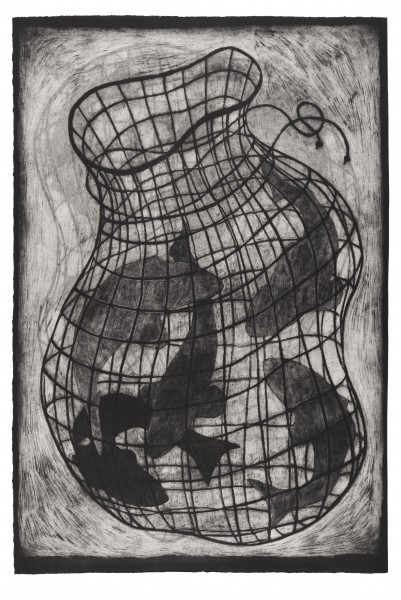 How does your work address the theme 'to the edges'?
The work is representational but is made reductively, focusing on the shapes, spaces and atmosphere connecting the subjects. The edges are only created through a removal of what's between. Broadly, the print explores how we interconnect with our surroundings and the veil that exists between what we perceive as 'natural' and 'unnatural'. At a time where the world is on the edge of a precipice, an awareness of this divide, leading to a more holistic vision of 'nature' is perhaps our only salvation.
Can you describe the technical process you went through to achieve the finished work and what technical challenges you encountered along the way?
Recently I've made a few works burnishing aquatints and working reductively. I heavily darken the entirety of my plates with an aquatint then work back into them with scrapers and burnishers smoothing the surface texture of the plate like a traditional mezzotint. Previously I've taken care with the technique and aimed to achieve a softness a finesse but for this image I worked quickly using only large scraping tools hoping to achieve a sense of physicality and movement in the final marks and a sense of tactility in the removed areas of the plate.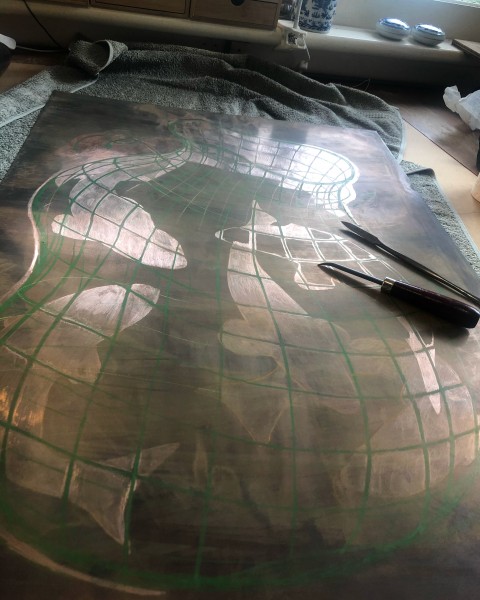 What do you see as the role of Sydney Printmakers for the next 60 years?
Sydney printmakers has an important role bringing together printmakers and continuing to provide opportunity for connection and discussion amongst members and the printmaking community. The organisation provides a distinguished platform for printmakers to present themselves as a united front and grants access to unique and exciting exhibiting possibilities. The role of the Sydney Printmakers in disseminating printmaking into the public sphere continues to be of vital importance.
How do you see the role of printmaking, in general, contributing to the conversation about contemporary art practice?
Printmaking is an art practice inherently linked to technologies. From the most primitive forms of mark making to the utilisation of cutting edge technology, under its skin printmaking is a rolling commentary on the progression of how we communicate and how we make marks on each other. The role of printmaking in contemporary art practice is strong and I believe it really can only get stronger as it's horizons widen and it's playing field naturally becomes larger.