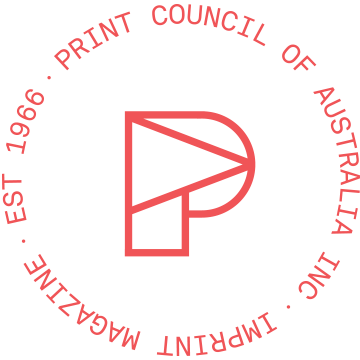 PRINT COUNCIL OF AUSTRALIA PRINT EXCHANGE 2020
Following the success of the inaugural PCA Print Exchange in 2016, and the second iteration in 2018, we are pleased to invite our printmaker members to participate once again in our third biennial Print Exchange and celebrate the depth and diversity of contemporary Australian Printmaking. One print will reside in the PCA archive as a snapshot of printmaking in 2020.
Please note you must be a member of the Print Council of Australia to participate in the project. There are many benefits to being a member including a subscription to the quarterly Imprint magazine. To view membership options visit our membership page.
THEME – No specific theme, we encourage you to make what you do best.
PAPER SIZE – strictly 26 x 20 cm. Images can be printed edge to edge or on any part of the paper. Please use archival printmaking paper. Prints to be interleaved with tissue or glassine paper (CUT TO EXACT SAME SIZE AS PRINT)
TECHNIQUES – All printmaking techniques including digital and combinations accepted. 2D only.
EDITION SIZE – Each artist will create an edition of 12 prints signed and numbered (1/12, 2/12, 3/12 etc). Each print needs the artist's name, title and medium written in pencil on the back.
DEADLINES –
Applications open: 16 December 2019
Works to arrive: by 30 October 2020
Distribution: early December 2020 (TBC)
Applications here.
Print Council of Australia
c/o Sharron Okines
PO Box 2949
Fitzroy VIC 3065
One print is to be donated for sale to raise funds for ongoing projects for the PCA.
One print will reside in the PCA archive.
Ten prints will be exchanged and you will be sent a randomised selection in return.
International participants please mark the envelope "No commercial value".
The PCA will take every care with your prints but no responsibility for loss or damage can be accepted.
ONLINE EXHIBITION AND SALE
Please email a low res JPEG image of your print, your website address and a 50 word (or less) statement to Sharron Okines – imprintadvertising@printcouncil.org.au
When the prints and fees arrive, images of the prints will be uploaded to the PCA Facebook page for exhibition and an online sale (date to be determined) of the 2/12 prints to raise funds for the PCA. Other exhibition opportunities may arise and we will advise you accordingly.