Welcome to Print Day in May!
Print Day In May is a global celebration of printmaking, held annually on the first Saturday in May in print shops, studios, kitchens, on beaches and sidewalks all over the world.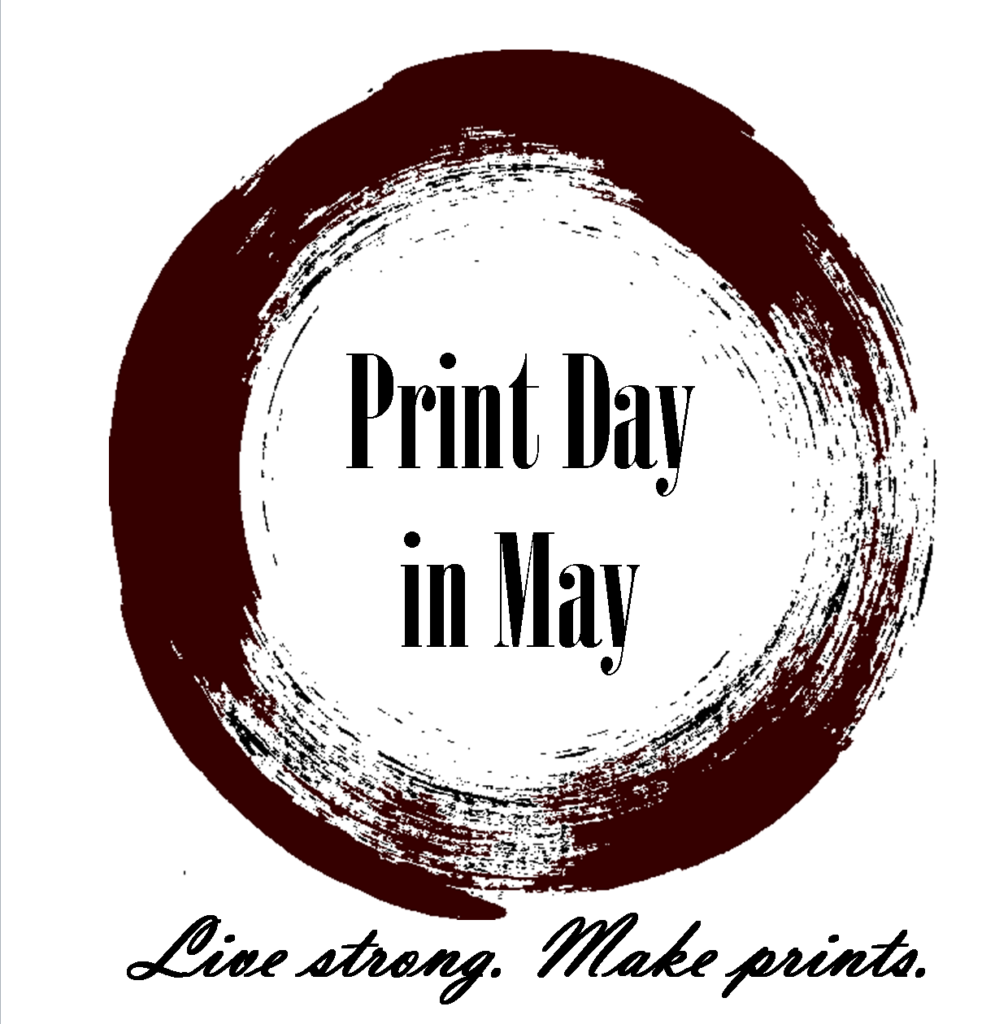 Join us the first Saturday in May. Every year. Always.
Join us by registering on this site and/or joining the Facebook group Print Day in May Printmakers. Of course you can follow us on Instagram as well! Registration through this site gives you authorship on our blog pages, your name on the site as a participating artist, and emailed PDM newsletters.
For over ten years Robynn Smith and the MPC Printmakers have devoted the first Saturday in May to fine art printmaking. What began locally in the greater Monterey Bay Area of California in 2007, has become a worldwide event. In 2019, artists from all 50 US states, 60 different countries and all 7 continents participated! We are astonished, printmakers. We are thankful, and so proud to have you with us.
Please register for this annual, worldwide event right here. Once registered, this site/blog is for you! Post pix, respond to other printmakers and build community through our shared love of printmaking.
By providing a creative synergy and a forum for sharing and building community, this event unites printmakers worldwide and fosters a better understanding and appreciation of printmaking.
Participation is easy. Just make a print on May 2, 2020! Let the world know what you are doing by chiming in on our blog, Instagram and/or Facebook page.
Send us photos of your prints, your studios and your printmaking friends.
Invite guests and friends into your studios to share your love of printmaking.
Please join us! Make a print anywhere on 2nd May 2020. Complete an edition, try a new technique, make a footprint in the sand or snow, kiss a mirror, make handprints with kids…just print, enjoy, share and let us know about it!
Spread the word!!!! There are many ways to do so here are a few ideas:
Blog – PrintDayinMay.com – click on "Members and Registration" and follow instructions to register. This will allow you to post comments and photos. Use us as a printmaking forum!
Facebook Group – Print Day in May Printmakers
Facebook – @printdayinmay
Instagram – @printdayinmay
Contact – Robynn Smith for more information.
Connected
Having built this beautiful community, don't forget to check back and share your work year round! In the meantime, we'll be looking forward to everything Print Day In May 2020 has in store for us.
Thank you all,
Robynn
Below please find some pictures from PDiM 2019. You can assume that 2020 will find the event bigger and better than ever. Check in regularly for updates, and register today!
From PDiM 2019: