Social Drought: Solo Exhibition by Katherine Kennedy
Dates: 25th – 30th June 2019
Times: 10am – 5pm daily (closed Mondays)
Location: Gallery ONE88 Fine Arts,186/188 Katoomba St, Katoomba NSW 2780
Exhibition Celebration: Saturday 29th June 2019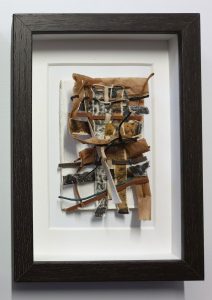 The individual art works comprising this eclectic body of work incorporate; found rusted objects from arid landscapes juxtaposed with hand-made elements. Wet versus dry appearing surfaces. Woven two dimensional or sculptural elements and blurry out of focus imagery. All items incorporate an element of a consumable 'drink' be it alcoholic or coffee, however. For example, I have consciously incorporated alcohol with either; alcohol-ink, shellac, alcoholic packaging cardboard's, drink-coasters, beer bottle-shard lenses and more.
Curated within this show are works that symbolically stand alone or build context collectively. A solitary object, abandoned, left for time to claim. A female portrait, ephemeral and hovering over a dusty landscape. A detailed, single rock-form supported by a 'community of rocks' in the periphery. A close up study of a 'community of rocks'. Abstract appearing shapes denoting repetition and the singular.
I have thoroughly enjoyed the lived research approach behind this body of work spanning 5 years. The most significant placements influencing this new body of work have been in New Zealand annually for major events and curated exhibitions, on an island famous for its wineries, and a research station at Fowlers Gap run through UNSW Art & Design.